INNOVATION
Willowbrook Foods offer a unique dedicated INNOVATION HUB in the heart of Ireland ' The Food Island' Our farming background, procurement knowledge and cooking experience gives us the ability to partner and service cost effective and efficiency solutions, offering product development, packaging and market data.
Since the early days Willowbrook Farm and Foods have been a leader in the forefront of premium prepared fresh vegetables and salads, cooked and ready to cook products. Success has been built on continuous improvements in product developments and processes expanding throughout Ireland and Great Britain.
We pride ourselves on having a complete understanding of not only our client's business' and requirements but also on the industry and emerging food trends globally and the evolution they can show our industry. Our passion in our sectors ensures all prospective and existing customers put development first, our customer's want development and we love giving it.
Our Innovation team come with a wealth of knowledge and are all qualified Food Scientists or Chefs to allow likeminded discussion and development with all our customers whether in Retail, Foodservice or Manufacturing.  Each customer of Willowbrook Foods is assigned their own dedicated Innovation Support Manager to help promote and progress their relationship with our business along with their portfolio of products supplied by Willowbrook Foods.
The two factories offer a large range of prepared fresh vegetables and salads and also cooked and ready to cook products
Here at Willowbrook we pride ourselves in our product quality, service levels and constant innovation for our customers however we recognise that this would not be possible without the support of our suppliers
Over the years, we have developed long-lasting relationships with our suppliers. We work directly with growers in the UK, Ireland, Spain, France, Italy and Holland to ensure we have continuity of supply 12 months of the year. All our fresh produce is grown to contract with programmes agreed on a seasonal basis. We have tried and tested contingency plans in place to allow us to react quickly to challenges related to weather, spikes in demand and transport, while ensuring supply continues to our customers
We have a dedicated procurement team who frequently visit our growers, working together in a mutually beneficial partnership. We also work alongside seed houses, in conjunction with our growers, on varietal innovation
All our suppliers are audited to high industry standards such as Global Gap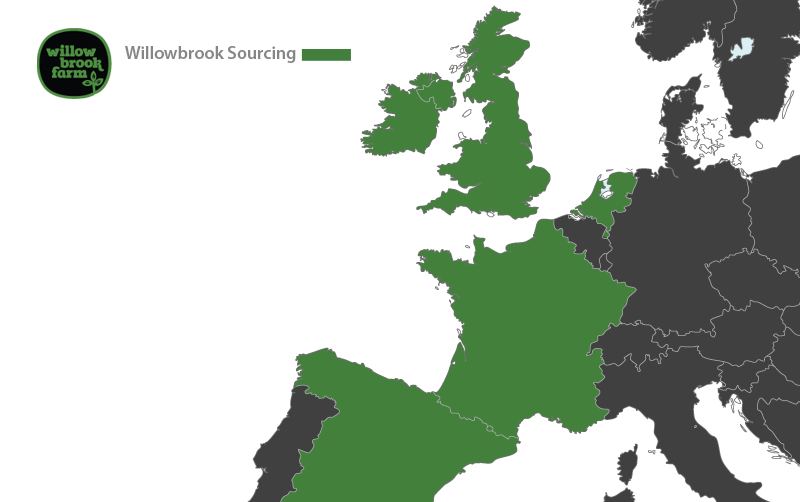 Our two factories in Newtownards and Killinchy are headed up by our two Managing Directors, both with decades of industry knowledge understand operationally the capabilities of our teams and facilities.  We have plenty of resource, vision and space to meet your requirements.
Not only do we produce ingredients and ready to eat products such as fresh leaves, vegetables, cooked products and dressings in retail and wholesale packaging we are also provide premium suppliers in bulk format for the manufacturing and Industrial industry. We are advanced specialists developing to the specific needs of excellent food processors, bespoke ingredients, such as quality vegetable mash.  Recognised as innovators within the produce world, working with brands to develop market-driven products using our fresh produce as components we have the capability and drive to meet customer requirements and to provide top rated support
​
Our ingredients can also be delivered pre-proportioned, with key nutritional information and we also provide consultation on all aspects, including market analysis and packaging for any end product
Quality is at the heart of Willowbrook foods, ensuring all food manufactured meets our customers exact specifications. The site has a dedicated technical team who ensure all aspects of traceability and quality from field to fork. Our BRC AA+ grade certification confirms that we have met very specific requirements set by the British Retail Consortium for their standards of food safety.
We also have extensive capabilities and expertise in the following:
Traditional & Bespoke Vegetable Preparation

Steam Cooking

Mayonnaise Production

Optical Sorting

Blast Chilling

Heat sealing
Health Wellbeing & Safety Concern