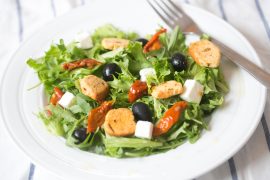 Lots happening here at Willowbrook Foods, below are examples of some of our exciting achievements over this past month!
Introduction of exciting new lines!!
We are pleased to announce we have been shortlisted by they Irish Quality Food Awards for the following new lines
Cajun Coleslaw
Potato Salad with bacon
Medstyle Salad Bowl
Another one of our major achievements this month is winning the Domino's "Best Product Quality" award 2016.
A new Caesar Salad bowl line has been recently launched into Domino's.  This is great news for WIllowbrook as we have been supplying Domino's for over 8 years to 72 outlets across North and South of Ireland.
Furthermore we have recently launched 5 new lines (4 of which are salad bowls and the Beetroot Duo Salad Bag) into a wide range of Spar shops.
Due to our continued success within the South of Ireland we have now expanded our customers and look forward to working in partnership with companies such as Keelings Market and Sean Hussey to name but a few. This is an exciting time as we are passionate about providing a high quality service and working in close partnership with our customers.
We're doing our bit for the environment!
Water Tecnik Ltd. Have worked closely with Willowbrook Foods to realise Substantial Savings and Improved Reliability on Effluent Discharge Quality following the installation of a DAF system to treat trade effluent on site!
Willowbrook has been able to reliably use the DAF system to remove contaminates before discharging to effluent to local sewer. The contaminates will then be used as feed stock for a local AD plant, providing green energy.
The project has provided the following benefits;
Operational savings – Effluent disposal costs reduced substantially.
Business compliance – Effluent discharge is consistently compliant.
Environmental awareness – Turning a waste stream into a resource.
Water Tecnik are delighted with how the new DAF system has allowed Willowbrook to enjoy instant operational and financial benefits. For further details please visit www.watertecnik.com
In keeping with our environmental responsibility we are proud to be awarded with a AA accreditation by BRC.
A big congratulations to Willowbrook employee Miss.Toni Kismova who ran a half marathon in aid of N.I. Children's Hospice.  She raised an amazing  £388.50 with the majority being donated by Willowbrook employees!! 
Welcome to the team!
Due to  to Willowbrooks' extensive growth over the previous 16 months, we are delighted to be in a position to create employment opportunities in both management and production within NI and further afield.
We have 3 new exciting appointments within Willowbrook Foods.
Innovation has been the catalyst to the success of both Willowbrook Foods and Willowbrook Fine Foods. To enhance the continued and growing success of the Innovation Centre we would like welcome a Mr. Oswald Ellis to the team.
We also like to welcome 2 new Sales Development Managers, Helen Terry and Vicki Paget.  Both ladies bring with them a wealth of experience and knowledge of the industry which will greatly contribute to the existing dynamic sales team.